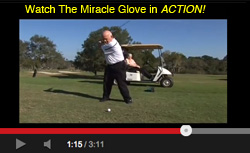 Don't let a physical
challenge keep you
from the game you love.
If the use of your hands, arms or shoulders are at all compromised, the Miracle Glove could be the means you've been hoping for to get you back on the greens. Discover the new JDM Miracle Glove™ and its scientifically designed, course-proven Assist-a-Grip™ System today!